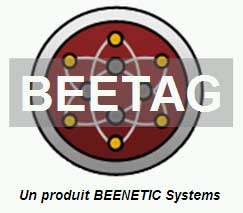 To serve some of today's needs, BEENETIC Systems has designed and manufactured a small Zigbee module (identifier BEETAG1322X1), with reduced functionality to meet production, test and interface requirements with client systems.
We have designed this system with tje will to minimize production costs : it is therefore available at a competitive price (consult us).
An overview of the features of this module :
Compact

: L<30mm, l<30mm, h<25mm

Standalone

: Button cell (possibility of external power supply)
Compliant with the full IEEE 802.15.4 standard (integrating the entire Freescale BeeStack protocol)

2.4GHz

band
RF power

3dBm

Sensibility

-95 dBm

26MHz ARM7

microcontroller including hardware acceleration for

IEEE 802.15.4

AES 128bit

Encryption
128 KB Flash
96 KB RAM
2 x

Quartz

for acurate timing management (24MHz + 32767KHz)
4 x

LEDs

including 2 configurable by software
2 x

Buttons

including 1 software configurable
2 x Series connections

(UART)

Up to 32 configurable digital inputs/outputs (

GPIO, interrupts

)
1 x

SPI

bus
8 x analog inputs (12-bits

ADC)

1 x

I2C

bus
4 x

Timers/Counters

(PWM)

JTAG

Development Connector

Generic connector

for access to all devices using an external adapter (application)
The BEETAG1322X1 can be used in several configurations. The two main one are the following
Autonomous module (router, tag)

Battery powered (several months or even years of autonomy depending on the case of use)
No interface connected
Plays a role of transmission of information along the network, or identification module (in the manner of an RFID tag)

Radio card module in an application

Plays the role of radiofrequency card
Connected to an electronic board wich will serve as an application (signal conversion, signal capture, action on the environment,etc.)
Reading of signals (voltage, current,...)
Detection of events (levels, interruptions,...)
Generation and capture of periodic signals (clocks, PWM)
External memory management (RAM, Flash)
Communication with external equipment (RS485, RS232, SPI, I2C)
Keyboard playback
Etc...
Do not hesitate to contact BEENETIC Systems for more information (This email address is being protected from spambots. You need JavaScript enabled to view it.)