The Kinetic RF Sensor is a multi-movement sensor housing communicating.
Very innovative in its associations of technologies, this sensor includes
a 3D accelerometer
a magnetometer
a gyroscope
a Zigbee module
a Li-ION/Li_Ploy charger and its battery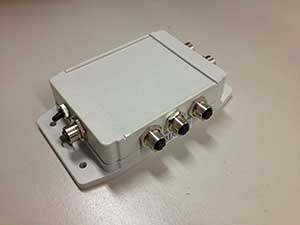 The very small size of this sensor/probe makes it very attractive for use on industrial site or on moving machine.
Deployed at an industrial company, this sensor, this probe, allows to characterize  movements of mobile systems in an industrial environment, with high precision (state of art, measurement frequency of several tens of Hertz).
This module is integrated into a Zigbee network of course. The network coordinator interacts with a measuring station equipped with National Instruments' LabView software on one side and a CAN network on the other.
Do not hesitate to contact us to know more (with the confidentiality of the project).