BEENETIC develops an automated boat detection system on their site in a marina.
This sytem is the fruit of a double experience :
An experience of

navigators

, on many seas of the globe and the practice of ports and their constraints
An experience in

wireless measurement

and

data transmission systems
The BEENAUTIC systems allows the harbor master to initially, and to the user in a second time, to know in real time the state of occupancy of a port place.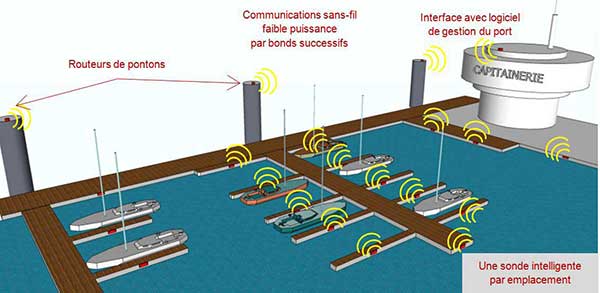 The system consist of :
Of an electronic

interface

box allowing communication with a port management software located in the harbor office
Of electronic boxes distributed in the port, enabling wireless radiofrequency transmission of the information to each probe of the device (

routers

)
Of electronic

probes

near harbor places for detecting the arrival, presence, and departure of a vessel, by combining sensors with acoustic or electromagnetic waves
And electronic boxes embedded on the boats (

badges

)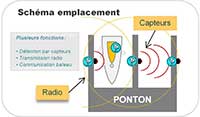 The harbor master can thus communicate in real time with the electronic modules located near the harbor seatings to interrogate them about the presence and the identifier of a boat, and to read certain physical characteristics.
Symmetrically, electronic probes located close to the squares and those on ships can report to the Harbor Master's Office and autonomously the arrival and departure of a boat or issue an alarm signal.
We use two detection technologies :
Detection from the pontoon using an

acoustic detector

Detection using an on-board RF module on the boat (which can only be optional and at the request of its user
The communicating sensors deployed form a local radio network which allows to carry many additional services on the site of the marina.
We can cite :
Parking access management
Communication with weather stations
Sanitary or pontoon access management
Parking space availability management (see other projects BEENETIC Systems)
Lighting management (on/off, consumption, measurement,...)
Location of equipment and vehicles on the port
Point alarms "man-a-the-sea"
Monitoring of various constraints
Guidance of boats, users...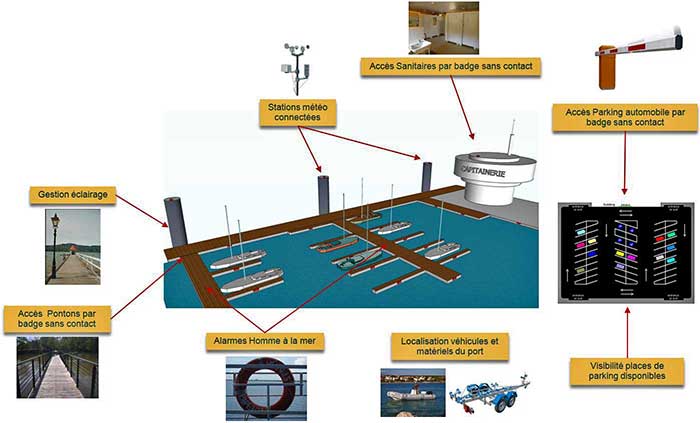 This system led to the filing of a patent with the INPI.
Rates : contact us (This email address is being protected from spambots. You need JavaScript enabled to view it.)
Availability : on-site deployment for customer testing from October 2012